TWO VIDEOS ON SPIRITUAL RENEWAL IN CAMBODIA
'These two very beautiful films show that Cambodia is not only a country prey to war and unending violence, but also a place where the great virtues of Buddhism – tolerance, non-violence and compassion – are practised.' King Norodom Sihanouk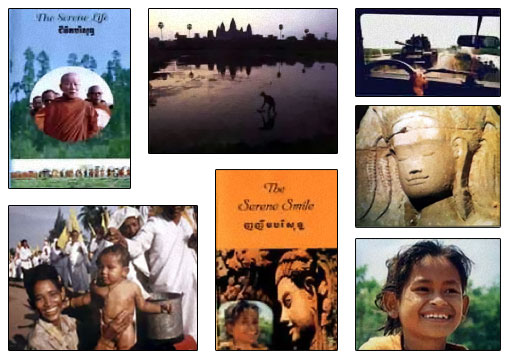 The Serene Life
(In English or Khmer)
£12.99 (incl. p&p)
The Serene Smile
(In Khmer, with English
or French subtitles)
£12.99 (incl. p&p)
The Serene Life & Smile
together
ONLY £22.00 (incl. p&p)
The Serene Life
'An important message of truth for the western world' - Cardinal Franz König, former Archbishop of Vienna
'Excellent reflections' - Ajahn Sumedho, Abbot of Amaravati Buddhist Monastery, UK
This 20-minute video is based on the only full-length interview given to a professional film crew by Buddhist Master and Nobel Peace Prize nominee Venerable Maha Ghosananda.
Venerable Ghosananda speaks with profundity, gentleness and, at times, with mirth. He warns of the dangers of deforestation and illustrates the value of fostering a non-violent attitude towards nature. He expounds on the philosophy of the dhammayietras or peace marches - which became the most sustained mobilisation of monks and nuns for a social cause in the history of Cambodian Buddhism. And he explains the connection between peace in the mind and peace in society – showing, through tireless example, that it is possible to rejuvenate loving-kindness, compassion and serenity after genocide and war.
This video captures the message and character of a Buddhist master whose life is his message and whose message is peace.
---
The Serene Smile
'Moving, beautiful – a quest for healing' - Dr Peter Carey, historian, University of Oxford
'A jewel of a film - the heritage of the East at its most relevant best' - Rajmohan Gandhi, author, journalist and grandson of Mahatma Gandhi
This 20-minute film is based upon a contemporary Cambodian poem interwoven with sayings of the Buddha. It juxtaposes scenes of life in Cambodia today with stunning images of mediaeval Khmer art on the one hand and the tragic legacy of the Khmer Rouge on the other. The film is pervaded by haunting indigenous music.
The poem asks whether the smiles on the ancient carvings of Cambodia's temples are 'frozen and lifeless' – whether, after the violent deaths of millions of Cambodians, the Khmer culture is also 'dead'. The poem then explores the spiritual qualities that produce the enlightened smile, and asks whether these qualities can ever be revived in the Cambodian people after their suffering.
The sayings of the Buddha are selected from The Dhammapada and embody the essence of Buddhist teaching on compassion, peace and forgiveness. Many of the symbols used in the sayings - such as the lotus flower, ox cart and water-jar - are evident in Cambodia today.
The film ends with a return to the poem, which concludes that when hatred and suspicion are vanquished the divine dancer 'will dance so that our people will smile again'.