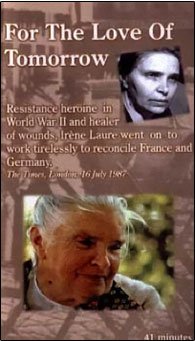 FOR THE LOVE OF TOMORROW
This film is a unique profile of Madame Irène Laure, a member of the French Resistance who, in the rubble of post-war Europe, discovered forgiveness to be a force stronger than hatred. 'I longed for the total destruction of Germany,' she recalls, '… that it would no longer exist… [but] hatred, whatever the reason for it, is always a factor in causing a new war.' Irène Laure travelled to Germany shortly after the end of hostilities and spoke of her experience of forgiveness to thousands of people. She was decorated by both the French and German governments for her contribution to the reconciliation of their countries.
Available in 15 languages including Afrikaans, Hindi, Mandarin, Polish, Russian, Spanish, Urdu and Welsh.

For The Love of Tomorrow
(41 minutes)
£13.99 (incl. p&p)