The Imam and the Pastor in Arabic launched in Sudan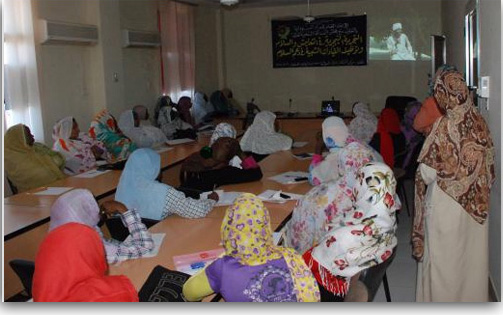 The Imam and the Pastor is screened for the Women's Union Association in Khartoum
(Photo: Imad Karam)
'I am grateful for this very inspiring experiment. We must repeat it over and over again. We can achieve a very peaceful life - in one Sudan, or two Sudans.' Former Minister of Finance Abdel Rahim Hamdi was speaking after a screening of The Imam and the Pastor on 16 January.
Discussion after the official launch of the film in the Al-Zubier Conference Hall in Khartoum The event, which took place under the theme 'Faith values are the basis for peace and coexistence', was organized by the Sudan Inter-Religious Council.  The Council's Executive Bureau includes leading representatives of the Sudan Council of Churches, the Muslim Scholars of Sudan, the Episcopal Church of Sudan, the Ansar Community, the Sudan Coptic Community and the Ministry of Religious Affairs and Guidance.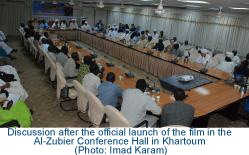 The protagonists of the film Imam Muhammad Ashafa and Pastor James Wuye and the film-makers Dr Imad Karam and Dr Alan Channer were guests of the Sudan Inter-Religious Council.
They were supported by Peter Everington, a former teacher of English in Sudan and one of the very few non-Sudanese to be decorated by the Sudanese government for services to education in the country. Their visit came at a time of heightened political tension. National elections are scheduled for April and South Sudan is due to hold a referendum in 2011 on possible secession.
The official programme started on January 14 with a press conference organized by the Sudan Media Centre and attended by representatives of mainstream media. In his introduction, Dr Faroug Albushra, Secretary-General of the Sudan Inter-Religious Council, described the visit as 'timely and very much needed to maintain peace and co-existence in Sudan'. Dr Albushra and Dr Karam were interviewed by Khartoum Voice radio and by Blue Nile television.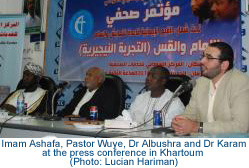 On Friday 15 January, Imam Ashafa led Friday prayers at a mosque in Khartoum. Imam Ashafa, Pastor Wuye and Dr Albushra with His Eminence Cardinal Gabriel Zubier Wako, at his residence in Khartoum (Photo: Alan Channer)On Saturday 16th, the team was warmly received by His Eminence Cardinal Gabriel Zubier Wako, at his residence. They then went on to meet with young people at the Arab and African Youth Centre. The film was screened and Imam Ashafa and Pastor James engaged with the youth for almost two hours.
Later that evening, the official film launch took place at the Al-Zubier Conference Hall, close to the Blue Nile. Over 100 people attended, including government representatives, former Cabinet Ministers, a Member of Parliament, religious leaders, educators, journalists, theology students and peace activists. In Mrs Khadiga Hussein (left) speaking at the official film launch (Photo: Alan Channer)the discussion that followed the screening, Mrs Khadiga Hussein, Founder and Chair of Sudanese Mothers for Peace described the film as ' strong and practical proof that cleansing the inside of ourselves from hatred, grudges and enmity will enable us to lead our community to reconciliation and forgiveness, thus opening a new clean page'.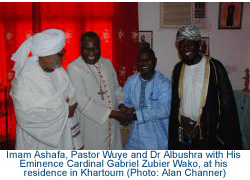 Deputy General Secretary of the Sudan Council of Churches, Rev. Mark Kage said: 'This is a good film and well placed. We have to be frank and admit that we have problems. If we continue to say we are okay, we will not go ahead'. Moderator of the evening, Director of the Future Studies Centre and Islamic scholar Rabie Hassan Ahmed, concluded that 'What we have been through this evening is very important…. Muslims and Christians can together solve common problems. Both religions can be used to reconcile societies and help them live in peace and harmony.
The visitors were welcomed at the Parliament of White Nile State with dancing by the Fellata community, who are of Nigerian Hausa origin (Photo: Alan Channer)The next day, the team travelled to Rebak, capital of White Nile State, two hundred miles south of Khartoum, where the film was screened at the State Parliament. The 100-strong audience included the Speaker, members of State Parliament and religious leaders, both Muslim and Christian. The event was covered by Ashoroug TV and White Nile State TV and Radio. The visitors were welcomed at the State Parliament with dancing by the Fellata community, who are of Nigerian Hausa origin.
A further public screening took place at the Judiciary House in Kosti. Here, the audience of over 100 included lecturers from Imam Al Mahdi university and members of the police force. White Nile state borders Upper Nile State of South Sudan and is known for its mixed Muslim and Christian communities. Both film screenings, which were preceded by Quranic recitation and a reading from the Bible, stimulated a flurry of questions to Imam Ashafa and Pastor James.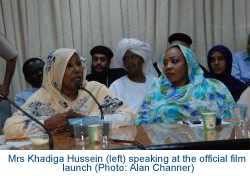 Discussions at the Parliament of White Nile after the film screening (Photo: Alan Channer)During the stay in White Nile State, news came of communal clashes in Jos, Nigeria, an area where Pastor James and Imam Ashafa have an active branch of their Inter-faith Mediation Centre. Whenever there was a free moment, the two men were in phone contact with their team and other key figures in Jos, assessing the situation and offering a continuous flow of prayers and advice
On the last day of the programme, a film screening in Khartoum was hosted by the Women's Union Association, for over 30 women, many of whom are leading figures in civil society. Imam Ashafa and Pastor James explained the nature of their Centre's work with women in Nigeria and a lively discussion ensued.
27/01/2010