Imam Muhammad Ashafa and Pastor James Wuye Win Chirac Fondation Award for Conflict Prevention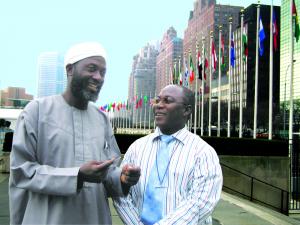 Imam Muhammad Ashafa and Pastor James Wuye have won the
Fondation Chirac Prize for Conflict Prevention
. They have accepted the Prize, which goes to support their work, and will attend to the ceremony on 6 November in Paris, at la Sorbonne. Former President of France Jacques Chirac, Kofi Annan and members of the jury of the Prize will attend. The award winning documentary film
The Imam and the Pastor
captures the story of Imam Ashafa and Pastor James. The producers of the film, who work with Initiatives of Change's
FLTfilms
in the UK, have also been invited to attend.
Pictures of Imam Ashafa and Pastor James will be placed on placards on the avenue des Champs Elysée, in Paris.
Conflict prevention work is more essential than ever. The number of wars, civil conflicts and violent inter-community conflicts is on the rise. Many of the peace processes in place are incomplete or fragile. When these conflicts start there is a grave danger that they will endure and cause human relations to spiral downwards and fester, while the means to impose peace are limited.
The Fondation Chirac Prize for Conflict Prevention aims to improve awareness of these risks and to help and support those who invest so much, in time and resources, to prevent conflicts from the outset. Its purpose is, by necessity, to improve international recognition of their efforts, to encourage people to take up the conflict prevention mantle and to encourage financial support.
In the 1990s, Pastor James Wuye and Imam Muhammad Ashafa led opposing, armed militias, dedicated to defending their respective communities as violence broke out in Kaduna, northern Nigeria. In pitched battles, Pastor James lost his hand and Imam Ashafa's spiritual mentor and two close relatives were killed.
Now the two men are co-directors of the Muslim-Christian Interfaith Mediation Centre in their city, leading task-forces to resolve conflicts across Nigeria.
The Imam and the Pastor tells how they made this remarkable transition. It is both a moving story of forgiveness and a case-study of a successful grass-roots initiative to rebuild communities torn apart by conflict.
Pulsating with the vibrant colours and music of West Africa, the film offers a message of hope for the world from an unexpected quarter.